If you can not read this mail correctly, please click here!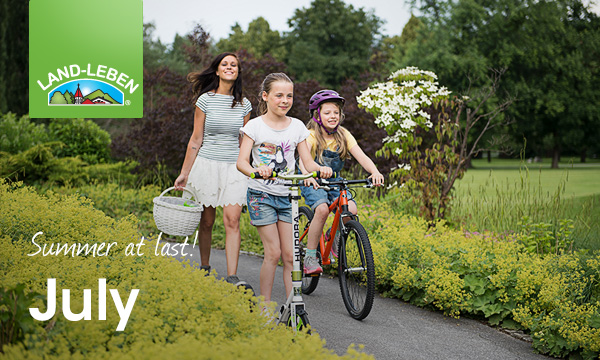 Dear LAND-LEBEN partner,

Summer at last! We are delighted that the warm season has finally arrived. Excursions into nature, bike rides with family and friends and balmy summer evenings allow us to enjoy this carefree season. So that you can also enjoy the long days and warming rays of sunshine from a culinary point of view, we bring you recipe ideas for all your intentions from a light lunch or side dish to a nice barbecue in amicable company or a deliciously light dessert.

To inspire you in your culinary activities not only with our wonderful recipes, which you can find on our homepage and our social channels, but also to accompany you safely and cleanly, we are giving away 5 x LAND-LEBEN barbecue gloves and 5 x LAND-LEBEN barbecue aprons.

In addition, 1 active family holiday awaits you at Hotel Hasenauer in the beautiful Salzburger Land, so it's definitely worth taking a look and taking part!

We wish you a wonderful and delicious summer with lots of wonderful memories and also some LAND-LEBEN culinary moments!

 
 

Cooking Catrin at the Benedictine Market

Summer-fresh herb soup

The best start to the weekend: A visit to the Benediktinermarkt! Cooking Catrin shows us the delicious range of stalls where she gets all the ingredients for a seasonal herb soup. With ripe vegetables, fresh herbs and LAND-LEBEN croutons, she brings summer to the plate!

 
 

WINNER GAME

1 family active holiday at Hotel Hasenauer in Salzburger Land

Families.Sport.Friends
At Hotel Hasenauer you'll find everything you need for an action-packed, fun-filled and relaxing family holiday. In the midst of the mountains in the "Home of Lässig" you can really let off steam - summer or winter. Afterwards, the rooftop relaxation area awaits you with a magnificent panorama, while the little ones are taken care of in the 70 m² play world or relax in the family chill-out area. You will be pampered with the finest culinary delights and fine wines.

After so much action, you can relax in the evening in the stylish rooms and sink comfortably into the pillows.

 
 

What we recommend

Tuscany flair in southern Styria

Welcome to the Genussregion Südsteiermark - the wine country of Austria. It is the variety and compatibility of possibilities that makes your cycling holiday in Southern Styria so special. Between vineyards, wine taverns and vinotheques - your picnic basket is filled to the brim with joie de vivre! Grab your bike and discover the idyllic Velontour Genussregion.

 
 

 

Recipe

Wild herbs salad with edible flowers

Dandelion flowers, daisies, wild thyme ... this salad comes straight from nature. The little ones can help with the picking, and afterwards the whole family can enjoy a delicious salad.

 

Recipe

Fruity chocolate sheet cake

Why choose one type of fruit when so many sweet fruits are ripe? This juicy chocolate cake combines the best of summer with a refreshing curd cheese cream. This makes a wonderful dessert.

 

 

LAND-LEBEN Nahrungsmittel GmbH,
Gewerbepark 1, A-5102 Anthering