If you can not read this mail correctly, please click here!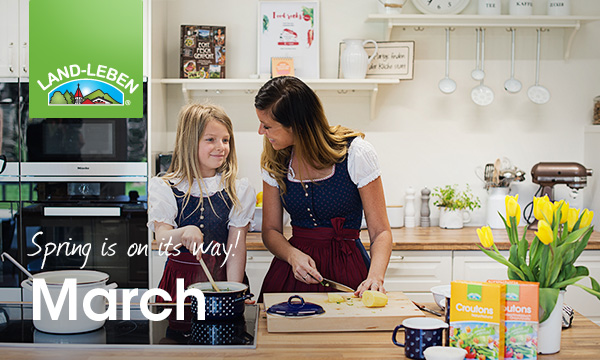 Dear LAND-LEBEN Partner,

It's slowly turning green outside, which means spring is on its way! But not only that, the wild garlic season is already in the starting blocks. So now is the best time for exploring and harvesting in nature. You are already on the trail of enjoyment! Because the taste bomb wild garlic has so much to offer in the kitchen.

As the temperatures rise, so does the motivation to get active outdoors again. That's why we are giving away
5 active & feel-good holidays in the village of SCHÖNLEITN. The unspoilt region invites you to go hiking and cycling, while the wellness area tempts you to switch off and relax.

We look forward to accompanying you with our products again this year. Regionality, trust and relationships are in the foreground for us, because we are convinced: You can taste it when it is a Good Brand!

Enjoy the spring and hopefully many beautiful hours of sunshine outdoors!

 
 

Picking fresh greens with Cooking Catrin

The wild garlic season starts

In spring, the next recipe idea is never far away because it grows right on your doorstep! Catrin shows us that picking wild garlic can be a fun adventure for the little ones. Afterwards, they'll be all the more energetic in helping to turn the harvest into a delicious dish.

 
 

CONTEST

Win 1 of 5 active & wellbeing holidays in the village of SCHÖNLEITN!

Just in time for the start of the outdoor season, 2 nights for 4 people each are waiting for you in the village of SCHÖNLEITN in Carinthia! There, a cosy flat including half board awaits you and you can also pamper yourself in the SPA & Wellness area. The beautiful Alpe-Adria region, on the other hand, invites you to explore nature on hikes or bike tours. Enter the competition now - we wish you good luck!

 
 

The LAND-LEBEN Good Brand

Where regionality, trust and relationships are paramount

We are convinced that you can taste the entire genesis of food in the end product. When nature and the local soil are doing well - as well as all the people involved in the production - this results in first-class quality. That is why our recipe for success as a family business, even in the 3rd generation, is: We remain true to our values!

 
 

 

RECIPE

Spring wild garlic or goblin soup

For the little ones, the wild garlic season is the highlight - first pick wild garlic together and then cook this creamy leprechaun soup from it! With sour cream and LAND-LEBEN BIO spelt croutons it becomes a treat for the whole family.

 

RECIPE

Hearty mountain cheese soup with wild garlic pesto

Wild garlic is also a hit when it comes to refinement. The creamy and rich mountain cheese soup gets a very special flavour note with this topping. Of course, LAND-LEBEN croutons are a must.

 

 

LAND-LEBEN Nahrungsmittel GmbH,
Gewerbepark 1, A-5102 Anthering