Wenn Sie dieses Mail nicht korrekt lesen können, klicken sie bitte hier!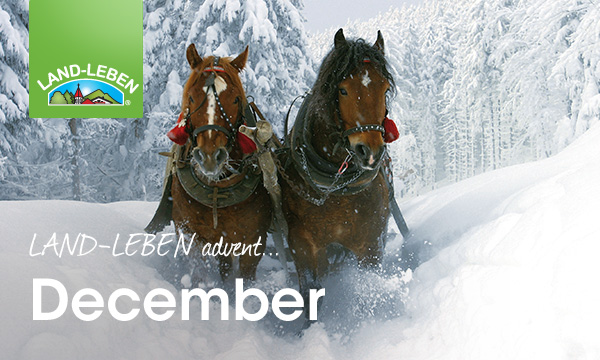 Dear LAND-LEBEN Partner,

The year is slowly coming to an end and we look back on the turbulent past months. There is one thing we have always been able to rely on - your loyalty! Our development towards a good brand continues and we are pleased that you accompany us on this path. As the world becomes quieter and the home is filled with candlelight and the scent of fir trees, we too are getting into the mood for the Christmas season. We would like to start Advent with a thank you to you! With our raffle, you get the chance to win 1 of 5 active and wellness holidays in the village of SCHÖNLEITN on Lake Faak.

We wish you good luck and a wonderfully contemplative time with your family!

 
 

Enjoy the winter culinary

Cosy Advent evening outdoors

Although we prefer to get cosy indoors in winter, a Christmas evening outdoors also has its charms. That's why we've collected everything you need for a dinner by the fire basket. From mulled wine syrup to a warming main course from the oven to speculoos cake with Christmas spices, it's all here. Even the table decoration needs to be taken care of - with a natural wreath and atmospheric candlelight. Then there's only one thing left to do: send out anticipation and share the video as an invitation with friends!

 
 

RAFFLE

Win 1 of 5 active & wellbeing holidays in the village of SCHÖNLEITN on Lake Faak!

A trip to the winter wonderland sounds tempting? Then take your chance and enter our competition. We are giving away 5 holidays for 2 nights and 4 people each including half board at beautiful Lake Faak. Relax in a cosy flat in the village of SCHÖNLEITN or let yourself be pampered in the new SPA & Wellness area, to which you have unlimited access. There is also a lot to discover in the region with mountains and lakes if you prefer to face winter from the active side.

 
 

THE LAND-LEBEN GOOD BRAND

Our cornerstones are sustainability, trust and relationships

Traditional recipes and lots of love. This is exactly what you can expect when you buy LAND-LEBEN products! But we are not only aware of our responsibility towards our consumers, but also towards nature, our employees and our suppliers. You can find all the information on how our development into a good brand will continue in the coming year on our website.

 
 

 

RECIPE

Winter baked apple with apple sauce filling

The scent of cinnamon is simply part of winter! That alone makes this sweet temptation the perfect recipe for the pre-Christmas season. It is also ideal for using leftover apples.

 

RECIPES

Find more on our website

Our lives have become faster, more hectic and stressful, making the time we have left even more valuable: time to relax, to let go of the stress and reconnect. Time to enjoy life over a good meal with family, friends and guests.

 

 

LAND-LEBEN Nahrungsmittel GmbH,
Gewerbepark 1, A-5102 Anthering